Feed My Starving Children Mobile Pack Event 2018 Was a HUGE success!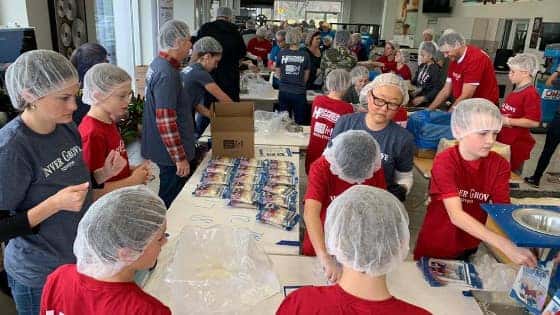 Our Feed My Starving Children Mobile Pack Event 2018 was a HUGE success! We had nearly 350 volunteers this year and would like to thank them all for their time and hard work.
Feed My Starving Children partners with organizations around the world to reach the neediest children. The donated meals go to an exceptional network of missions and humanitarian organizations who work hard to get life-saving nutrition into the hands and tummies of those who need it most. More than 99% of Feed My Starving Children meals have safely reached their intended destination.
This year at the Inver Grove Toyota Feed My Starving Children event, we packed over 101,000 meals which will feed 277 children for an entire year. We would like to thank the donors who helped us fund the event including Heppner's Auto Body, Toyota Financial and Toyota Motor Company.
We also collected food for Neighbor's Inc. at the event. Neighbors, Inc. is a non-profit, social-service agency providing emergency assistance and supportive assistance programs to low-income community members in the northern Dakota County communities. We are so happy to help those in need both within our community and worldwide!
We are looking forward to another successful Feed My Starving Children event next year!
General Manager – Jeff Stearns