Toyota Financial Service Videos
Below is a list of Toyota Financial Services Videos listed by title. Select a title to view the individual video. If you have any questions about financing or leasing a vehicle from Inver Grove Toyota, please Contact Us today.
Toyota Vehicle Service Agreement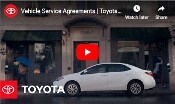 Protect your Toyota with the highest quality! Enjoy flexible coverage terms and the most protection even after your warranty expires. Check out this Vehicle Service Agreement video from Toyota Financial Services.
Get more Vehicle Service Agreement information.
Toyota Guaranteed Auto Protection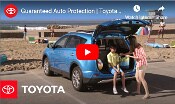 GAP – provided by Toyota Financial Services, helps you out when your current auto insurance doesn't cover your vehicle in the event of accident. With Total Loss Protection, and Deductible Coverage, stay protected with GAP.
Learn More About GAP.
Toyota Tire and Wheel Protection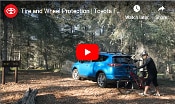 Drive a little safer knowing you're protected with Tire and Wheel Protection offered by Toyota Financial Services. In the event of tire damage due to eligible road hazards, know you're covered! You can also get this with optional Key Replacement Protection, and Paintless Dent Repair and Windshield Repair.
Learn More About Tire and Wheel Protection
Toyota Excess Wear and Use Protection

With Excess Wear and Use Protection, you can avoid paying for extra dents and dings with your hard earned money. Excess wear is unexpected, but lease smarter and get control of your lease today!
Learn more about Excess Wear and Use Protection.
ToyotaCare Plus (Prepaid Maintenance)

Every new Toyota vehicle comes with ToyotaCare, but now you can extend this maintenance plan to ToyotaCare plus, offered by Toyota Financial Services. These prepaid maintenance plans help you prepare for tomorrow to keep you up to date on maintaining your new Toyota!
Learn More About ToyotaCare Plus.