Your Service Advisor, Your Tire Guy … Team Deserves a Lot of Praise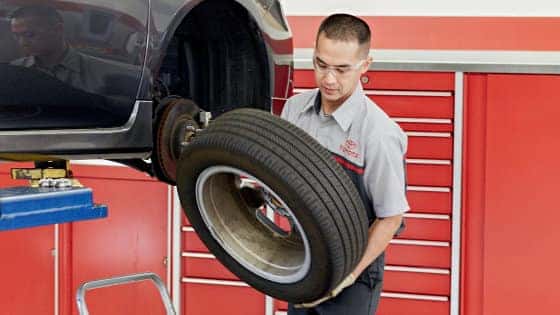 Here's a Service Review we just received:
—————————————–
Jeff,
I run an outsourced IT service business and work with several large dealerships throughout Minnesota, Wisconsin, and Iowa. I know from the insider's perspective how challenging your business can be and while I've only had one experience with your dealership, it was so outstanding that I thought you'd want to know about what your team did for me.
On Friday January 25, I was driving my son from La Crosse to St. Thomas for an official football recruiting visit in our 2017 Avalon. There were a dozen recruits scheduled that day and the school had a full agenda planned, starting at 10:30. When we were just 15 minutes away, at 9:45, we drove over what we thought was a piece of ice on an on-ramp, but it must have been a piece of steel because it caused immediately obvious damage to our tire. I checked our nav system and luckily your dealership was only one mile away and we were able to make it there, with just enough air in the tire to get us there. When I pulled in it was really busy and I told the service advisor (I believe Steve Edmunds?) the circumstance, he went into high gear and within 5 minutes there were three people working on it. Unfortunately, they found that not only was our tire damaged beyond repair, our rim was cracked as well. They told me they could an identical tire and a new rim overnight and to get us to the event quickly, they provided me with a loaner Camry. In total, we were at your dealership less than 20 minutes and we ended up only being about 15 minutes late to the event. Incredible! And, it was completely fixed by 10 AM Saturday morning, which allowed us to get on our way back to La Crosse.
I'm not sure if you have kids or not, but this day was a big deal for my son and when it looked like we were going to be really late, he was pretty unnerved. Because of the work of your team, it was a non-issue. And when I say team, it was really an impressive team effort, between your service advisor, your tire guy who pulled the rim and tire off right away, and others. I described it to several other people since then as a pit crew descending on the car. Again, I know how tough your business is and I assume, as is the case in ours, that you hear a lot more from unhappy customers than you do happy ones. Your team deserves a lot of praise in this case, they stepped up to take care of us in a big way and I greatly appreciate it. Please pass along my thanks to those who took such great care of us.
Peter Kujawa, J.D.
———————
Check out our Toyota Service Department.